24
09
2004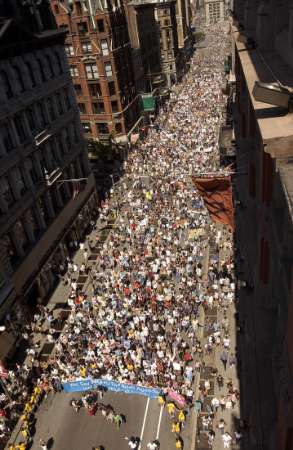 It has proven more difficult than i thought, to put my own thoughts together concerning the RNC, let alone summarize here. The resistance around the RNC has dissipated, NYC activism has evolved for the better and many of us are moving forward.
Immediately after the RNC i felt humbled by the enormity of the "Machine" and its incredible strength, relative to my own. The general strategy of the state is to treat "protesters" as domestic terrorists. This is best exemplified by almost all articles equating global justice movement convergences as a gathering space for "violent anarchists."
The press loves this propoganda and pumps-up the message, which succesfully plays the fear card to create political cover for the criminalization of dissent when the police shred the constitution in the process of clearing the streets.
Following the initial wave of sadness and frustration i have been able to be more up beat. These days, online resources abound for those interested in telling their own stories and writing their own history. I am doing my best to be a part of that record.
I have been able to meet many really amazing people in New York and other activists from across the country. Ultimately the RNC experience for me was about making human connections. These bonds continue to evolve and strengthen with time.
Following are a few worthwhile links:
Fred Askew always takes awesome photos.
This is a good article from NYC indymedia with various corporate media roundup of the coverage.
The Washington Post managed to write an accurate article weeks after the RNC was over, concerning the abuse of power.